Summary
A new single-asset REIT prepares for its initial public offering.
Aspen REIT is a new concept for individual investors.
Opportunities and risks with a single-asset REIT.
Why I like REITs
I like real estate investment trusts. REITs make up almost 17% of my retirement income portfolio. My first REIT was New Plan Realty Trust, which had its origin in 1942, when Morris Newman developed a business that enabled investors with limited resources to pool their money to invest in large real estate properties. Today, the REIT structure has been adopted by various types of commercial and residential properties, even including cell towers, timber, billboards and solar properties.
REITs are popular among retirees and other income-seeking investors for several reasons:
A single-asset REIT
What if you could buy a single-asset REIT? You would forego diversification and take on increased company-specific risk and you would participate more fully in any potential price appreciation of the property. I recently conversed with someone who envisions another way to diversify, by developing a company that potentially will manage several single-asset REITs.
Aspen REIT, Inc. (Pending:AJAX) is a newly-formed, single-asset real estate investment trust that plans to execute its initial public offering in December 2017. Aspen REIT expects to be the first single-asset REIT to list on a US national exchange. Aspen, Colorado is a year-round tourist destination and one of the world's premier ski-resorts.
The St. Regis Aspen Resort attracts couples, families, celebrities, wealthy individuals and top executives for vacations and business events. The resort is near skiing, snowmobiling and dog sledding sites as well as whitewater rafting, horseback riding, hiking, golf, hot air ballooning and paragliding.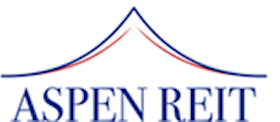 The St. Regis Aspen was built in 1992, and will be the sole real estate asset of the new Aspen REIT. It's a 179-room luxury hotel located at 315 East Dean Street, Aspen, Colorado 81611.
The St. Regis Aspen was originally a 257-room Ritz-Carlton hotel owned by a Saudi Arabian businessman, Sheik Abdul Aziz Bin Ibrahim Al Ibrahim. In 1997, ITT Sheraton became the property manager. As part of the $14.3 billion 1998 acquisition of Sheraton by Starwood Hotels, the Aspen Ritz became a St. Regis, a network of 30 luxury 5-star hotels and resorts operated by Starwood. In 2005, Starwood converted 98 rooms in the hotel's east wing to 25 residential condominium units, which are not and will not be owned by Aspen REIT. The remaining 179 rooms (154 standard rooms and 25 suites) and the other hotel facilities on the campus comprise the St. Regis Aspen Resort.
In 2010, the St. Regis Aspen was sold by Starwood for $70 million to the present ownership group led by Stephane De Baets, now 48, Managing Director of OptAsia Capital, a financial advisory firm in Bangkok, Thailand.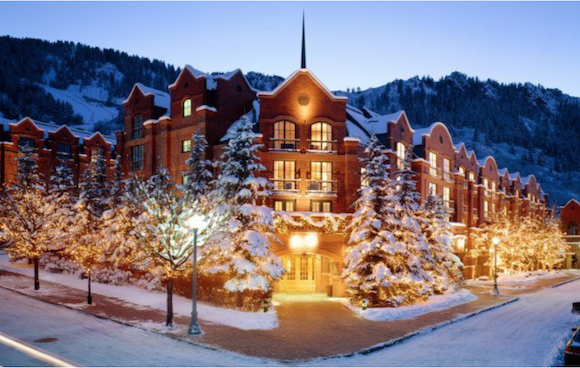 (Photo from St. Regis Aspen website)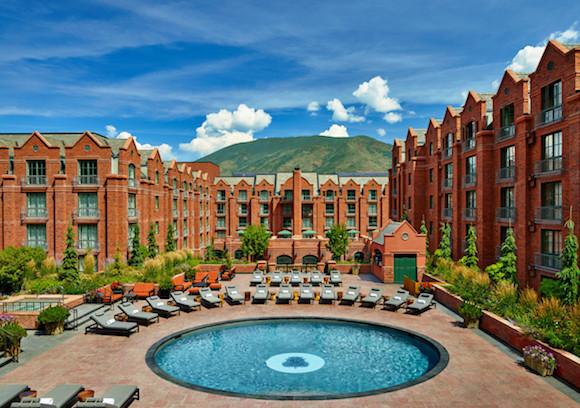 (Photo from DSC)
The property features restaurants, a private spa, 29,000 square feet of indoor and outdoor conference and banquet venues, and a heated outdoor pool with panoramic views of the Aspen mountainside.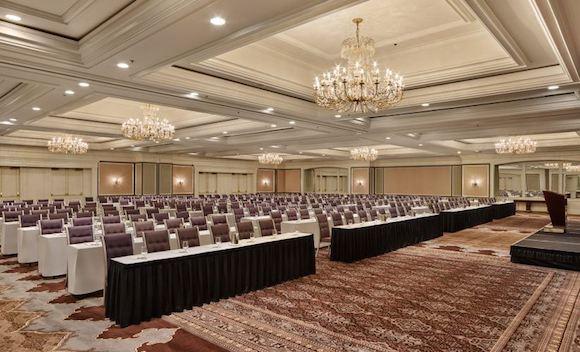 (Photo from St. Regis Aspen website)
Here's more from the St. Regis website:
Aspen, Colorado
The town of Aspen sits at the base of Aspen Mountain, for which the town is named. Aspen Mountain straddles the continental divide in the White River National Forest. The local population commonly refers to Aspen Mountain as Ajax Peak or Ajax Mountain, which explains Aspen REIT's choice of the ticker symbol AJAX. Aspen (2010 population 6,658) is the seat of Pitkin County (2010 population 17,148). Aspen is about 4 hours west/southwest of Denver, via I-70 and CO-82. Aspen hosts the World Cup ski races, the ESPN Winter X Games, the Food & Wine Classic and the Aspen Music Festival.
After the initial public offering, the St. Regis Aspen will continue to be managed by a subsidiary of Marriott International Inc. The resort consistently attracts a wide range of guests including families, celebrities and top executives due to its location, amenities and year-round activities including world-class skiing and cultural and sports events.
On November 13, 2017, Aspen REIT announced that it filed a Form 1-A to launch a Regulation A+ initial public offering to raise approximately $33.5 million in gross proceeds.
A new concept and a caveat emptor
Aspen REIT will be externally managed by ER-REITS, LLC, a majority-owned subsidiary of Elevated Returns LLC, a New York-based real estate asset management and advisory firm, which in turn is wholly owned by Stephane De Baets. As of September 30, 2017, Elevated Returns had approximately $250 million in assets under management, including the St. Regis Aspen Resort.
Properties such as the St. Regis Aspen typically have been owned by institutions or by the world's wealthiest individuals. Reminiscent of the origins of the aforementioned New Plan Realty, the concept behind Aspen REIT is to make it possible for any investor to have an ownership interest in a single asset such as the St. Regis Aspen.
This article departs from my usual "cup of tea," which is conservative REITs with long histories of dividend growth. I'm intrigued by this new REIT.
In a brief conversation with Stephane De Baets (pronounced "ste fahn de bates") last month, he indicated that his goal is to have perhaps six or seven single-asset REITs managed by the external manager, Elevated Returns.
When Starwood (now Marriott) decided to move toward a more "asset lite" model, it sold the St. Regis Aspen. Marriott continues to manage the property. De Baets believes the single-asset REIT model may be attractive to other hotel owners who would like to monetize their investment, particularly if it is a luxury hotel in a popular tourist/convention destination.
Aspen REIT is De Baets' first REIT development and he is very motivated to make this first venture a successful experience for investors.
The obvious big "caveat emptor" here is that a potential investor must weigh the pros and cons of a "single shot" investment in the St. Regis Aspen versus a more diversified asset such as Apple Hospitality REIT (APLE), for example, which owns 230 hotels.
Aspen REIT management
Management is always critical. Anyone considering Aspen REIT would be wise to get to know Stephane De Baets. He's a triathlete investment banker and the principal behind AJAX. His Linkedin page describes his interests as: "Global Assets Management (Hospitality–Real Estate–Special situation) Restaurants and others under License form Food and Wine Magazine. Dream Chaser."
De Baets is a native of Belgium, with a master's degree in management services, finance and marketing from Solvay Business School of Management at the Université libre de Bruxelles. De Baets worked as an auditor primarily with the European Community and from 1999 to 2001, served as director at Devonshire Capital.
De Baets moved to Asia in 1994 where he worked in institutional sales for several Thai brokerage houses, including Seamico…